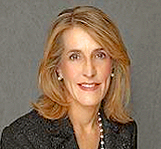 MARGARET E. OSIUS (MEG)
Founder and Principal of Osius & Associates, Ms. Osius advises a variety of corporate and banking clients structuring green-field projects as well as facility upgrades in the oil and gas, power, transport, water and telecommunications sectors. She also conducts tailored executive level training sessions.
Prior to establishing her own firm Ms. Osius was with the Global Banking Division of J.P. Morgan Chase Manhattan Bank where she originated export and international project transactions and advised clients on risk management. She has extensive experience with workout and distressed companies.
Previously she was Chair of the Technical Advisory Panel (TAP) of the Public Private Infrastructure Advancement Fund (PPIAF). A multi-donor fund, PPIAF is devoted to promoting private sector involvement in public infrastructure. Presently she is a Director of British Caribbean Bank and WIHL Holdings Ltd.
Ms. Osius has published in the business press on international project finance, trade and export finance, and derivatives topics. Her articles on approaches to risk management and financial analysis in transitional economies, as well as a series of video sessions undertaken in the former Soviet Union and Central Asia, have been distributed throughout the world by the World Bank.
She received an M.B.A. from INSEAD, the European Institute of Business Administration, in Fontainebleau, France. Her B.A. degree is from Princeton University. She is a member of the Council on Foreign Relations.